Fractional Mesotherapy is a new and advance treatment, which combines micro needling therapy with contemporary Mesotherapy practice. Fractional Mesotherapy is the induction of collagen by controlled wounding.
Practitioners have been using micro-needle therapy since the 1990's in the form of Collagen Induction Therapy (CIT) to fade scars and blemishes and generally used as an anti-ageing treatment. Since then, further development has introduced smaller size micro-needles which have been recognised to dramatically increase the absorption of topical treatments and penetration into the underlying tissues of the skin.
Collagen induction builds layers of the supporting intracellular matrix, promoting healthy, resilient skin that looks younger. Another key benefit from Fractional Mesotherapy is increasing penetration of active solutions, facilitating higher product concentrations in the dermis (deeper layer of the skin). This has the potential to make topical treatments more effective, according to recent studies it increased absorption by several hundred percent.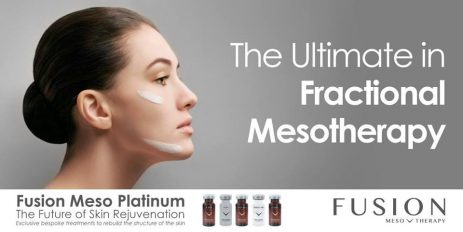 MODERN MESOTHERAPY
As Mesotherapy increases in demand and popularity many clinics have seen the benefits of Mesotherapy and its stability within their clinic. Not only is Mesotherapy a popular stand-alone treatment, it plays a beneficial role in its ability to be combined with a variety of other procedures or as part of a client treatment plan.
The Fractional Mesotherapy is an advance technique, partnering with Fusion Meso they are pioneers of this new style of treatment, exceeding client expectations with their unique method of treating each client as an individual, blending bespoke cocktails, masks, serums and creams. By personalising each clients treatment and focusing directly on their individual requirements and concerns the results are at a level that has never been seen before.
Mesotherapy is a popular option for clients seeking an alternative treatment to dermal fillers or wrinkle relaxing injections. Mesotherapy can also be incorporated into current treatment plans for clients who are receiving these treatments and would like further rejuvenation in other areas of their face, neck and décolleté.